University of Michigan Figure Skating Club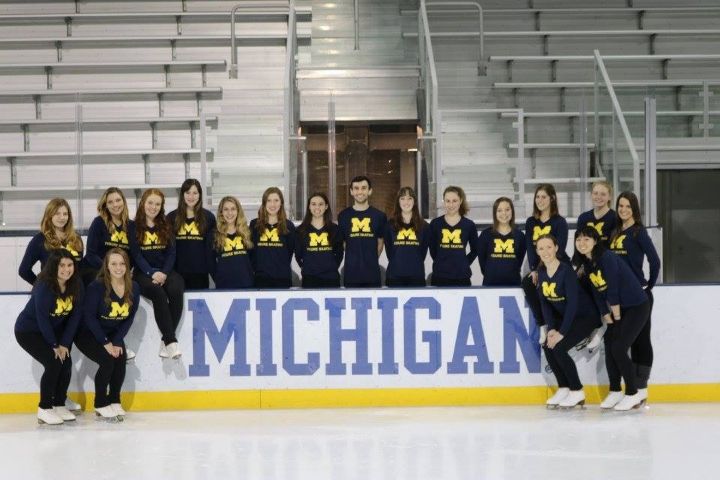 The University of Michigan Figure Skating Club (UMFSC) is a university club and a collegiate club of the U.S. Figure Skating Association (USFSA), that offers competitive and recreational opportunities for University of Michigan students. UMFSC consists of a collegiate level synchronized skating team and a freestyle team with the opportunity to compete in freestyle, dance, and team events at intercollegiate competitions. Please explore our site to find about more about who we are and what we do.
The freestyle program is a great opportunity for both beginning and experienced skaters to practice and compete in a relaxed environment. The freestyle team competes against other Midwestern schools at intercollegiate competitions and Intercollegiate Nationals if we qualify, and offers skaters of all levels an opportunity to compete in freestyle, solo dance, and team maneuvers. We also host two ice shows per year, which are a great chance for skaters to create fun programs and show off their talents to family and friends.
UMFSC has two general sessions per week at our campus rink, Yost Ice Arena. These sessions are not only a time to practice individual skills and programs, but a place for skaters to get to know one another better.
Freestyle skaters can choose to skate all freestyle sessions or sign-on individually, and can choose to skate recreationally or represent UMFSC at intercollegiate competitions.
UMFSC does not currently offer any freestyle coaching staff or test sessions, but many skaters take advantage of ice time, coaches, and test sessions at nearby rinks, including the Ann Arbor Ice Cube.
For more information on the freestyle program, please email our President Maeve Pascoe at
mpascoe@umich.edu
or our Recruiting Chair, Alison Panek at
alpanek@umich.edu